Meet our team at Extendicare Sunset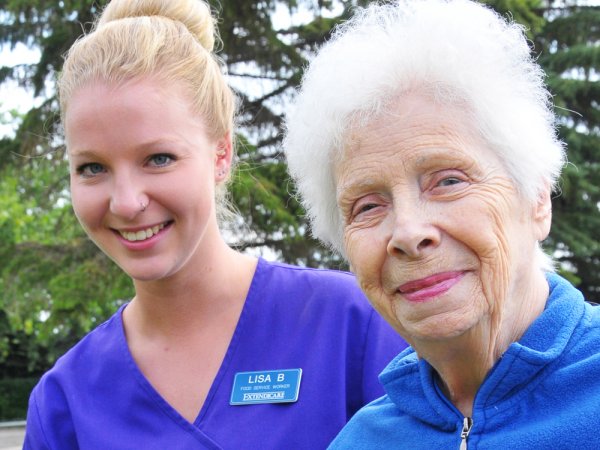 There are many people you will meet who make up our team of qualified, experienced and dedicated health care professionals. We hire the best possible care and service providers – dedicated and caring individuals who promote quality of care and quality of life every day and for every person who lives at our home.
Richard Cornish, Administrator, is responsible for the overall management and operations of our home. This individual can assist in answering any and all questions, especially those related to policies, procedures and the culture of our home.
Sharron Bryce, Director of Care (DOC), is responsible for supervising the nursing team and can answer any resident care questions including those related to nursing practice, personal care and care plans and routines.
Dr. Ole Rasmussen, Medical Director, is the lead physician responsible for the coordination of clinical services in the home. This individual can assist in answering questions related to medical care, convalescent care, chronic disease management, medications, end of life care and more.
In addition to these key positions, our home has a qualified management team that oversees all aspects of the home including health care, recreation, dietary and support services.
Here's how:
Your care needs, questions, or concerns can be attended to by our team of dedicated specialists, including:
Registered Nurses
Registered Practical Nurses/Licensed Practical Nurses
Personal Support Workers/Health Care Aides
Recreation Program Leaders
Certified Activity Aides
Physicians
Social Workers
Registered Dieticians
Cooks (including certified Red Seal Chefs)
Dietary Aides
Laundry Aides
Housekeeping Aides
Maintenance Staff
Administrative Staff
We have specialists in wound care, continence care, falls prevention, end of life care, chronic disease management and dementia care.
We work with podiatrists and beauticians to ensure you have timely access to specialized therapies and services. Additional fees may apply for some of these services.
Physiotherapy, occupational therapy, speech language pathology and dentists are unfortunately not available on site. These services are available in the community. We will assist in arranging transportation to these appointments however the choice of service provider is up to the resident (if able) or their substitute decision maker. Please note that the cost of these services are also at the expense of the Resident.
We also partner with educational institutions, researchers, and community organizations to develop or deliver innovative programs and services that will enhance your experience with us.